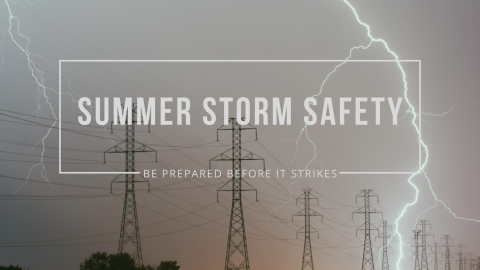 The third week in June is National Lightning Safety Awareness Week. By then, we are well into storm season here in Kansas.
The best thing you can do to protect yourself and your family from the dangers of summer storms is to prepare. Together, we can get through summer storm season safely!
WHAT TO DO BEFORE STORMS HIT
It should include bottled water, nonperishable foods, first aid supplies, flashlights, batteries, and any other items you might need if you were without power for several days. Keep it in a place that is easy to access and remember to replenish it if you use anything.
Download 4 Rivers' SmartHub app and follow 4 Rivers Electric Cooperative on Facebook and Twitter.
When you download the SmartHub app, you can report outages directly from your phone. We do our best to keep members updated when major storms affect our area.
Make sure 4 Rivers Electric has your updated contact information.
If we do not have the correct phone number or email address for you, we will not be able to communicate with you to share important information during storms. Take a few moments to check your SmartHub account or call 620-364-2116 to verify that the information we have is correct, so you can stay in the loop.
WHAT TO DO DURING A SUMMER STORM
When the thunder roars, go indoors. If possible, stay indoors for the duration of a summer storm. If you are outside when the storm starts and cannot get indoors, try to find a safe shelter until the storm passes.
If you lose power during a storm and have the SmartHub app on your mobile device, you can quickly report the outages. You can also report an outage by calling us at 620-364-2116 or 800-748-7395.
WHAT TO DO AFTER A SUMMER STORM
Watch out for flooded areas.
You know the saying: turn around, don't drown. Stay away from flooded areas and never drive through a flooded roadway as submerged electrical cords could energize the water and put you in danger.
Do not go near downed power lines or anything they might be touching. Downed lines could still be energized and dangerous. If you see a downed power line, call us at 620-364-2116 or 800-748-7395.
For more information about National Lightning Safety Awareness Week and additional lightning safety resources, visit http://www.lightningsafetycouncil.org/LSC-LSAW.html.